Putting Greens
Our product selection extends over a versatile range to meet any needs
At Greenside Turf, we offer the flexibility to choose between indoor and outdoor synthetic turf putting greens. Our turf solutions are designed to withstand high traffic areas, eliminating the constant maintenance issues associated with natural grass. Our durable turf products can easily stand up to continuous use, ensuring that your outdoor or indoor space remains beautiful and functional for years to come.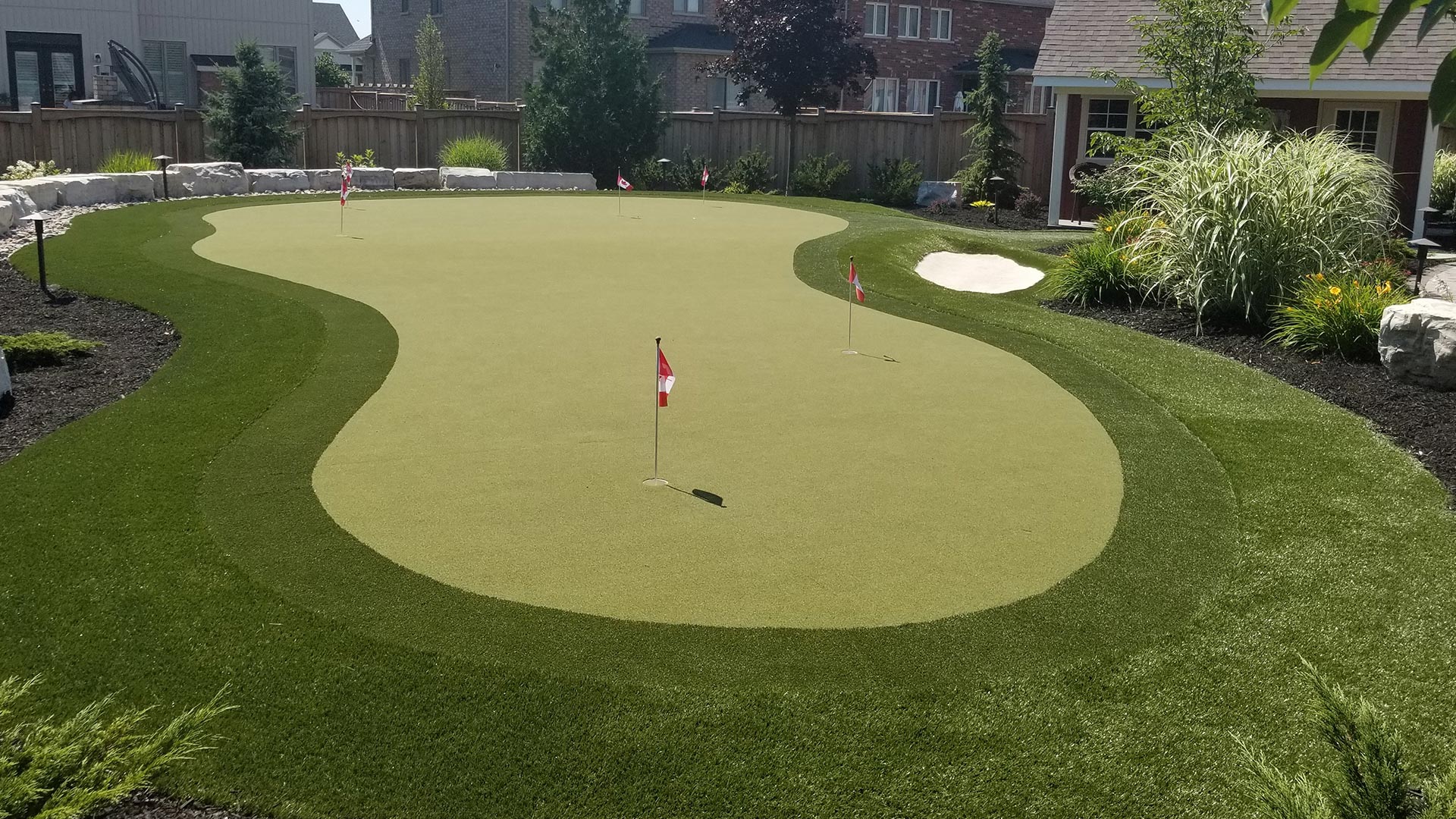 NP50 Putting Surface
This backyard paradise for golf enthusiasts features an impeccable artificial turf with a putting green, 1st cut collar, and bunker turf. The lush green surface offers a realistic playing experience, while the carefully designed features cater to both practice and leisure, making it the perfect golfer's retreat.
Our team of highly skilled installers has extensive experience in constructing specialized putting greens that mimic the contours and berms of a real golf course. We have built hundreds of these greens, and we take pride in delivering exceptional quality and precision in every project we undertake.
Bunker Turf
1"
Polypropylene
FACE WEIGHT 63oz
Bunker Turf
Closely mirroring the texture and appearance of real sand traps. Suitable for indoor or outdoor installation, on concrete or compacted aggregate bases.
Duraturf
1"
Polyurethane
FACE WEIGHT 40oz
Duraturf
Uniquely designed for swift drainage, this synthetic turf is ideal for pet zones, putting green fringes, and landscaping needs.
Putting Pro
0.5"
Latex
FACE WEIGHT 56oz
Putting Pro
Putting Surface for custom greens, offers true ball roll and bounce. Requires infill for stint control.
Bermuda Pro
0.95"
Urethane
FACE WEIGHT 62oz
Bermuda Pro
Ultimate realism in play and feel. Elite surface reacts naturally to shots, preferred by PGA pros and high-level golfers.
NP 45
3/8″
Nylon Putting Surface
FACE WEIGHT 83oz
NP 45
Excels with high-end ceramic infill, but can also be utilized without infill, making it perfect for indoor/portable putting surfaces.
NP 50
1.2"
Cross-Stitched Nylon

FACE WEIGHT 83oz
NP 50
Unrivaled in the industry, the texturized nylon putting surface, delivers an unparalleled natural ball roll and lifelike speeds that defy comparison. Non-directional cross-stitched construction.
NP 55
1.2"
Cross-Stitched Nylon
FACE WEIGHT 83oz
NP 55
Upgraded multi-color option of the NP50.
Pro Cut
3/4″ Polyethylene and Polypropylene
FACE WEIGHT 87oz
Pro Cut
Manufactured for pet facilities and putting green fringes/collars, this design stands out. Its short, dense construction guarantees durability and user-friendly maintenance.
EZ TEE POLY
1 1/4″
Polypropylene
Hitting Surface
FACE WEIGHT 147oz
EZ TEE POLY
Non-infilled polypropylene yarn for busy tee lines, hitting mats, and golf ranges.
EZ TEE HYBRID
1 1/8″
Hybrid
Hitting Surface
FACE WEIGHT 147oz
EZ TEE HYBRID
Non-infilled poly/nylon blend for busy tee lines, mats, and ranges. Accommodates all clubs, offering a genuine tee feel for extended use.
Address
2C - 521 North Service Rd East
Oakville, ON. L6H 1A5
Contact us for a free quote, sample or general inquiry.