Golf Simulator Turf
We offer premium hitting mats that hold a real tee and a variety of putting surfaces tailored for indoor golf simulator rooms.  Perfect for residential, commercial contractors, and DIYers alike, our collection brings the golf course experience indoors.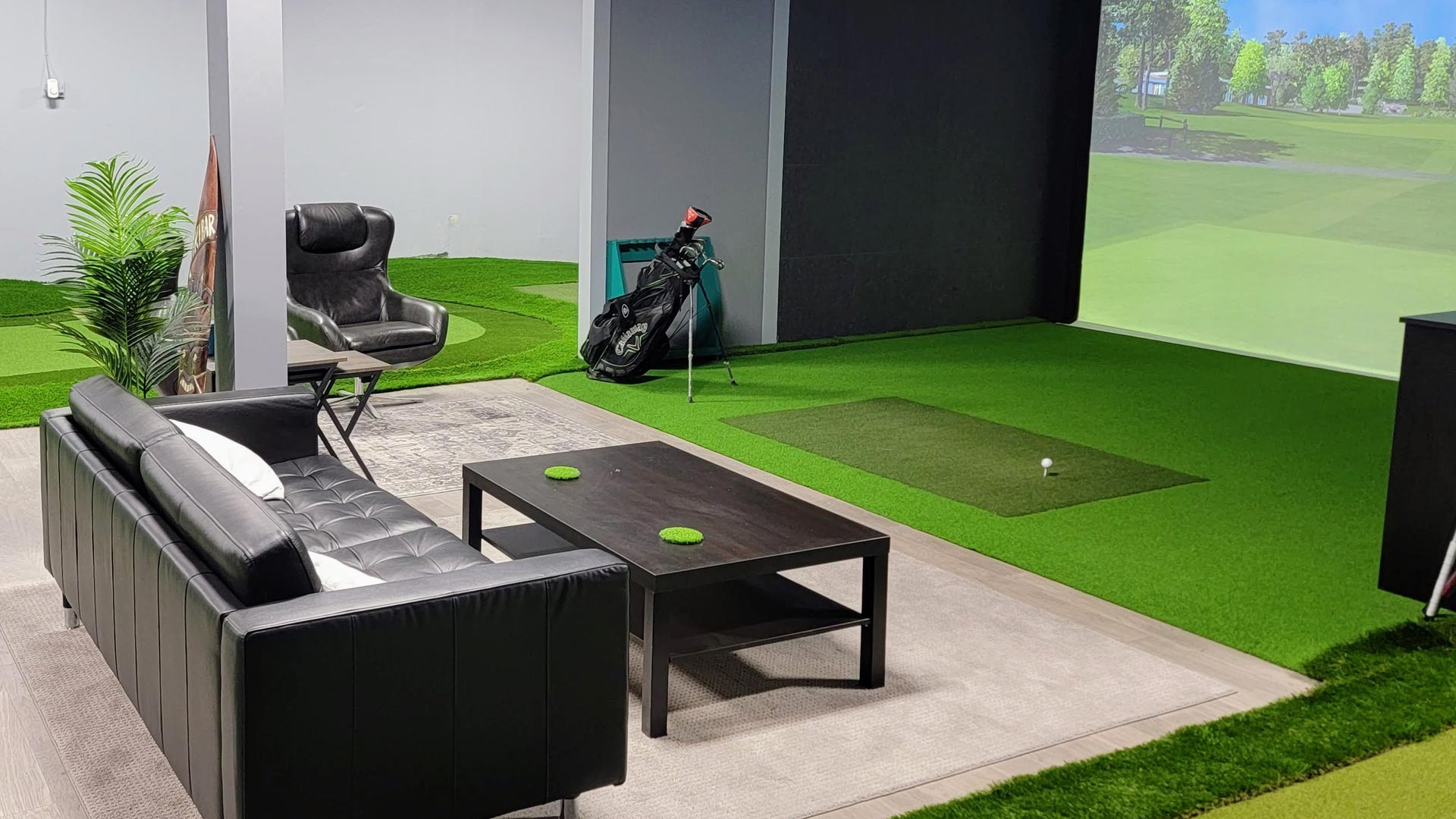 EZ TEE
Holds a real tee. No club bounce.
Want to feel the excitement in person? Step onto our Simulator bay showcase and see these materials up close. Transform your golf simulator room with our top-notch hitting mats and putting surfaces. Get ready for the perfect swing and putt, right in your own space.
Bunker Turf
1"
Polypropylene
FACE WEIGHT 63oz
Bunker Turf
Closely mirroring the texture and appearance of real sand traps. Suitable for indoor or outdoor installation, on concrete or compacted aggregate bases.
Duraturf
1"
Polyurethane
FACE WEIGHT 40oz
Duraturf
Uniquely designed for swift drainage, this synthetic turf is ideal for pet zones, putting green fringes, and landscaping needs.
Putting Pro
0.5"
Latex
FACE WEIGHT 56oz
Putting Pro
Putting Surface for custom greens, offers true ball roll and bounce. Requires infill for stint control.
Bermuda Pro
0.95"
Urethane
FACE WEIGHT 62oz
Bermuda Pro
Ultimate realism in play and feel. Elite surface reacts naturally to shots, preferred by PGA pros and high-level golfers.
NP 45
3/8″
Nylon Putting Surface
FACE WEIGHT 83oz
NP 45
Excels with high-end ceramic infill, but can also be utilized without infill, making it perfect for indoor/portable putting surfaces.
NP 50
1.2"
Cross-Stitched Nylon

FACE WEIGHT 83oz
NP 50
Unrivaled in the industry, the texturized nylon putting surface, delivers an unparalleled natural ball roll and lifelike speeds that defy comparison. Non-directional cross-stitched construction.
NP 55
1.2"
Cross-Stitched Nylon
FACE WEIGHT 83oz
NP 55
Upgraded multi-color option of the NP50.
EZ TEE POLY
1 1/4″
Polypropylene
Hitting Surface
FACE WEIGHT 147oz
EZ TEE POLY
Non-infilled polypropylene yarn for busy tee lines, hitting mats, and golf ranges.
EZ TEE HYBRID
1 1/8″
Hybrid
Hitting Surface
FACE WEIGHT 147oz
EZ TEE HYBRID
Non-infilled poly/nylon blend for busy tee lines, mats, and ranges. Accommodates all clubs, offering a genuine tee feel for extended use.
Address
2C - 521 North Service Rd East
Oakville, ON. L6H 1A5
Contact us for a free quote, sample or general inquiry.